It's time to rise up, Howlers. Pierce Brown and artist Joel Daniel Phillips have officially launched their Kickstarter for Red Rising Trilogy amazingness!
The campaign is titled, "Red Rising maps, prints and designs by Joel Daniel Phillips" and offers limited editions prints (signed or unsigned) as well as different types of collectibles. Learn more about it here:
Hello! My name is Joel Daniel Phillips and welcome to my Kickstarter!

Four years ago I sat down for a glass of scotch with my older brother's roommate from college, Pierce Brown.

Several glasses later, we found ourselves chatting art, dreams, creative visions, and most memorably about Pierce's recently finished novel: Red Rising. We dreamed about creative collaboration, and how someday, if Pierce was ever published, I would create art for his book. Later that night, sigils for colors and paintings of space battles danced in my dreams.

On January 28th 2014, Red Rising was officially offered to the public via Random House. True to his word, Pierce allowed me the honor of helping to visualize some of the world he created, and for the last three years I've been working with the wonderful folks over at Random House to design elements for the Red Rising trilogy.

Today, we are excited to offer a selection of limited edition screen prints and collectibles based off my original illustrations.

Pierce Brown has created an amazing universe for us to explore, and we both would love to see elements of that magical place come to life on its own.

Help us make that dream a reality!
Prints & Collectibles
Here are pictures of some of the available goodies: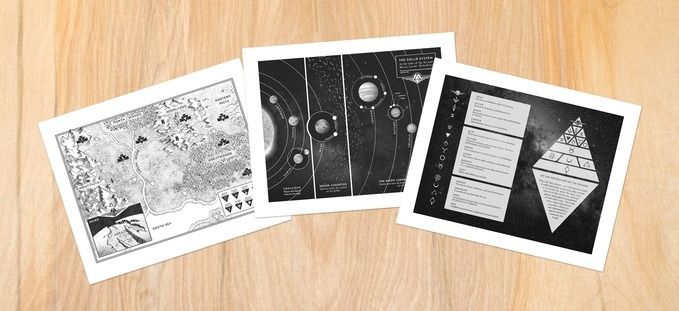 You can only pledge 1 option per email address, so if there's more than one item you want, I recommend using multiple email addresses. The limit on pledges is due to shipping safeness. No one wants their new sigil pins to damage their print!
Ready to make a pledge?

Make sure you let us know which option you chose in the comments below! Now go forth and do your thing, Howlers.